A Change of Fortune
Miss Sumner, or better known as Lady Eliza Sumner, daughter of Lord of Sefton, is living in New York. After losing her family, her faith, her inheritance, and because of that her fiance', she traveled to America to find Mr. Hayes the man who stole her fortune. She passes herself off as a governess while searching for him. While work for the Watson's she has to attend a high society dinner in place of Miss Agatha Watson. She is to sit between Mr. Hamilton and Mr Zayne Beckett, who Mr. and Mrs Watson intend for Agatha to marry one of them. Not wanting to be noticed as an aristocrat to tried to disguise herself with a pair of spectacles and she makes a mess of things, bringing more attention to herself than planned. She tripped on her gown and fell to the floor, making a bug scene because she can't see what was in front of her. During dinner she learns that Mr. Hayes and his wife live in New York not far from the Watson's, and he is calling himself Lord Southmoor. Not only has he stolen her fortune he has also stolen her father;s title as Lord. She is determined to find him and take back what is rightfully hers. One night Eliza slips out and goes to Mr/ Hayes house, but Agatha follows her even when she told her not to. While in the house they realize they aren't the only one who has broken into the house. Mr. and Mr. Beckett are in the house as well, looking for information in Mr. Eugene Daniels. Hearing the police they try to escape by jumping out the window and over a wall. THE WRONG WALL. They land themselves in jail because they are mistaken as women of the night. Hamilton and Zayne some to the rescue and bail them out. Eliza and Agatha arrive home to find agitated Mr. and Mrs. Watson waiting for them. Mr Watson learns they were in jail and fires Eliza on the spot. Hamilton invites Eliza to stay with him and his mother, Gloria Beckett. Hamilton lost his wide two years ago in an accident, since then his children have been through many nannies and he doesn't think he is capable of loving ever again. The children fall in love with Eliza as well as her growing attached to them. I could go on and on but I'm going to leave you hanging. To find out the rest you with have to read the book yourself. What will happen??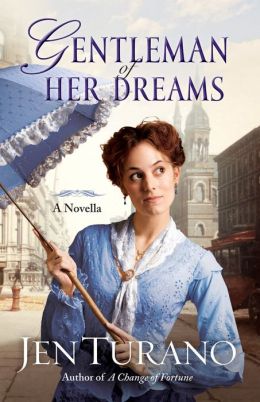 Jen Turano is an AMAZING author. I could not put this book down and finished it within a week, which is really surprising for me. This is the first book in the Ladies of Distinction series. She has a novella
Gentleman of Her Dreams
which is like a prologue to the series. Book 2,
A Most Peculiar Circumstance
comes in July 2013. I am very excited!!
Thank you Bethany House for sending me this book to review